Call Cedric at 305-707-7937
Welcome to United Exports
United Exports buys wearable sterling silver jewelry in bulk, at full spot (like it is 999 fine by weight not melt/925). We buy small and large lots, new, used and antique pieces, and everything from earrings and pendants to chains and findings. Our one overriding requirement is that the jewelry is in good, wearable condition.
To initiate a sale: Write down the troy weight of the lot of wearable sterling you are sending us and multiply it by the current spot price on one of your company's standard invoices. There is no need to call or email to lock spot. We trust you. (Current spot price is noted in the widget on this page.)
Payments made 2 work days after receipt.
Ground Shipping Costs reimbursed.
Mail the wearable sterling silver jewelry and invoice to:
UNITED EXPORTS NA LLC
5706 E Mockingbird Lane, Suite 115 BOX 238
Dallas, TX 75206-5460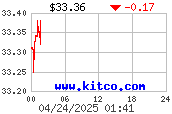 A check will be made out to the name on the invoice, and mailed to the address on the invoice, unless otherwise specified.